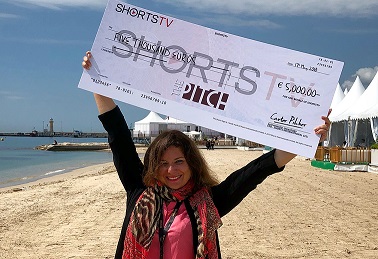 Frog & Roastbeef Films is delighted to be the 2018 winner of the prestigious Shorts TV Cannes Film Festival competition The Pitch.
Director Vanessa Pellegrin, pictured with the winner's cheque for 5000 euros, beat 100 entries from talented international filmmakers with the script for 'Sieda,' a drama based on a true, late-life love story.
Vanessa loved the story as soon as she heard it and commissioned Ella Mons to write the script, which the Shorts TV judges said was one of the best they had read this year.
The London-based director  took the script to Cannes with producer Arabella Gais, and was one of 20 shortlisted finalists who pitched before a panel of judges including ShortsTV's Head of Production, Stephanie Charmail, Benoit Blanchard from UniFrance and Maria Kivinen from yle, the Finnish Broadcasting Company.
"We're so excited to have won The Pitch and really grateful to Shorts TV for awarding Sieda the top prize," said Vanessa, a filmmaker who is based in London.
"I never dreamed we would win – there were so many amazing entries in the competition.  Now it will be just so fantastic to see this great project come to life."
Sieda is a poignant and often humourous  story about a woman in her 70s, who while visiting her beloved, late husband's grave at the cemetery, meets and eventually falls in love with an Irish widower.
Filming takes place in the beautiful Kent countryside this summer, with Vanessa as director, Arabella as producer, Ella as script-editor and Beverley Morrison as executive producer.